Festival Location and Parking Information
The Fort Lauderdale Wine and Food Festival takes place inside the Galt Ocean Mile along
NE 35th Street and 3351 - 3531 Galt Ocean Drive.

The Will Call Entrance is located on the corner of Galt Ocean Drive and NE 35th Street.

WILL CALL will be along the sidewalk and GUEST CHECK-IN will start from the NORTH.
3351 - 3531 Galt Ocean Drive & NE 35th Streeet, Ft. Lauderdale, FL 33308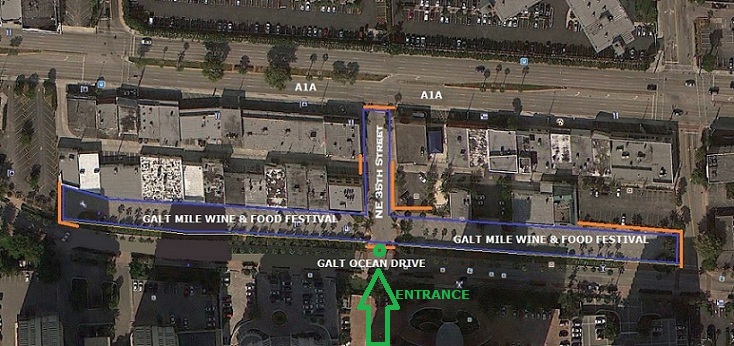 Parking is available inside The Tides - 3020 NE 32nd Ave, Fort Lauderdale.

Self Valet Parking on the west side of the parking garage is $5.

And parking on the east side is self-parking for $1.25 per hour.

It is just a short walk to the Festival Will Call Entrance. Walk north from the parking garage and go east on Oakland Park Blvd then cross A1A and follow the side walk North on the east side of A1A. Follow the sidewalk to the right along Galt Ocean Dr North to the Festival Entrance. The Will Call line will form to the NORTH of NE 35th St & Galt Ocean Drive along the sidewalk.

There is additional parking on the north west side of Oakland Park and A1A.